The memory of a country whose lockdown had stopped the spread of COVID-19 in most areas, with the salient exception of the Buenos Aires Metropolitan region, is seeming more and more distant in Argentina lately.
While daily cases and deaths continue to breach new records periodically on a national scale, the disease is now also spreading rapidly in many provinces that had close to zero registered infections only a few weeks ago, putting smaller regional health care systems under severe stress.
Argentina, which had shown initial success in containing the spread, still has some of the lowest accumulated deaths per capita figures in the region, with only Uruguay, Paraguay, and smaller nations doing better in Latin America. But the death toll is now accelerating rapidly, with a few daily reports of 200+ deaths over the last week that put it much closer to the figures of the worst performers in the continent if the pace is sustained.
The bad news, however, have been made easier to digest by a presidential announcement yesterday that the country will take a prominent role in the development of one of the most advanced vaccine projects in the world, helping it secure millions of doses early if progress continues at the current pace.
Drama in Jujuy
The northern Jujuy province is the starkest example of how things are taking a turn for the worse.
Only two and a half months ago, the province was isolating so successfully that high-ranking local officials were speaking of it as a potential host of a closed-doors return of Argentine football, similar to what the NBA is doing with its Disney bubble in the United States. Today, very few things could sound less outlandish, with doctors and nurses denouncing that provincial hospital beds are at capacity and patients are being derived to regional facilities with no ICUs or trained personnel.
Locals track the start of the outbreak to border crossings between Jujuy and Bolivia, the neighboring country whose health care system has long-collapsed due to the pandemic. Two of Governor Gerardo Morales personal guards, in fact, are under the limelight for using the Tarija-Villazón crossing to bring coca leaves from Bolivia, starting an outbreak in the police force that then spread through districts all across Jujuy when the officers returned home.
Jujuy, the 14th out of 24 Argentine provinces in terms of population, went from having almost no cases to being fourth in total accumulated contagions, behind Buenos Aires City, Buenos Aires Province and Chaco, the latter of which it will likely surpass in a matter of days.
Although the province officially reports that 93 percent of its hospital capacity is currently under use, health care professionals paint a much grimmer picture. "We are making phone calls everywhere and all hospitals are full. There's nowhere we can move new patients. People are dying in waiting rooms or due to lack of ventilators," Fabián Guerrero, who runs the sugar workers health insurer OSPAIL told Página/12. Sugar-producing giant Ledesma alone has already reported 7 workers dead and 221 infected in its provincial sugarmill.
Hotlines to report new cases, locals say, have no one returning the calls, and dead bodies are already piling up at homes and in overcrowded funeraries, similarly to what happened in Ecuador earlier this year.
Nationwide trouble
In Córdoba, the third-largest province in the country, 20 hospitals have already reported personnel contagions, many of which have spilled over to patients, and authorities are also fearing a collapse in the near future.
A graph with the 7-day rolling average of cases in three of the country's most economically productive provinces, Córdoba, Santa Fe and Mendoza, speaks for itself: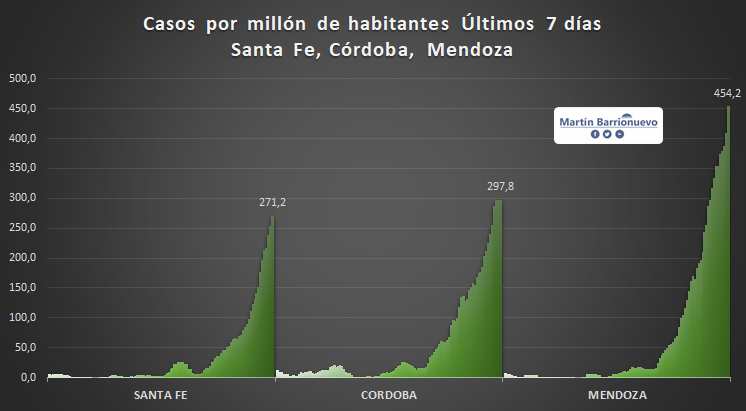 Similarly skyrocketing charts can be seen in Tierra del Fuego, Neuquén, Río Negro, La Rioja, Salta and Entre Ríos provinces.
While the provinces have not experienced lockdowns as harsh as those seen in Buenos Aires City and Greater Buenos Aires, their economic situation is still a fragile one, so authorities and business owners are still not sure of whether to go for very strict restrictions.
At the moment, half of the daily national death toll is coming from Greater Buenos Aires, where contagions have continued to gain momentum, and which could be on its way to overtaking BA City as the Argentine center of the pandemic.
Vaccine announcement
Amid the downpour of worrying numbers, President Alberto Fernández had an uplifting announcement yesterday to put a spark of hope in the national conversation.
Flanked by Health Minister Ginés González García, whose figure has taken a few hits during the pandemic, and García's second-in-command Carla Vizzotti, who has taken a more prominent leadership role during the crisis, President Fernández said the country would be taking part in the manufacturing of one of the most advanced vaccine projects, that of the University of Oxford in partnership with the AstraZeneca pharmaceutical company.
Argentina and Mexico will be in charge of the production of between 150 and 250 millions of vaccine doses to distribute in Latin America, after Mexican billionaire Carlos Slim signed a deal with the Swedish-British pharmaceutical giant through his foundation, which Fernández repeatedly showered with praise during the conference.
As well as Slim, who ranks as the richest Latin American businessman, Argentine Hugo Sigman was the other key player involved in the agreement, with his INSUD Group controlling the biotechnological firm mAbxience that will work on the local branch of the project.
Open to alternatives
The Oxford-AstraZeneca vaccine still has Phase III studies and regulatory approvals pending, but has shown promise in creating immunity so far. Argentina, Fernández said, will move forward with the production, running the risk that the project could be aborted due to problems in these latter stages, but looking to secure the doses needed locally if success continues. Initial production is expected for the first half of 2021, Argentina's Health Ministry reported.
"We are open to anyone that can bring us solutions. I wrote earlier today to Russia's Vladimir Putin to congratulate him on the vaccine that his country also seems to be moving towards. The Oxford-AstraZeneca project offered the conditions we were looking for. It grants us the local transfer of the technology and it is done with no profit motive. This is in line with what I called for in the G-20 meetings, socializing the technology for the vaccine so that everyone has access," Fernández said.
Argentina is also cooperating with Pfizer and China's state-owned firm SinoPharm, looking to secure alternatives to the Oxford-AstraZeneca project in case they are needed.