Mayors are a curious breed.
Mauricio Macri started his career in politics as president of a football team. Before he was mayor he had one of the worst attendance records in Congressional history. He leans to the right, yet he has been the mayor of Buenos Aires (not exactly a conservative bastion) for almost seven years now.
But if you look at what's happening in Manhattan, the situation there might surprise you as well.
You know how some people here usually look up to the glamorous New York life and try to imitate in any way they can? Well in January, New York City Mayor Bill de Blasio became the big apple's first progressive mayor in over twenty years (and he's twice as tall as the last one). Perhaps the most stunning contradiction of all comes the mayor of Toronto. Who would have ever guessed that the world's most wheels-off, party-till-you-pass-out politician would come from Canada, a country that many consider to be a role model and what the First World should be about?
Here are four things that may surprise you about Macri and two of his peers to the North – the recently elected Bill de Blasio and the much maligned mayor of Toronto, Rob Ford.
Political Firebrands
 Mauricio Macri – The Right: PRO-Business
Since he won the mayor's office in 2007 on a business-friendly platform, Macri has become the face of the conservative movement in Argentina and the unquestioned leader of the right-wing political party Propuesta Republicana (PRO). Macri has won praise for his urban planning projects, which he organizes by designating certain districts of the city for a particular economic activity. For example, Palermo was designated as a "film district," and has benefited from tax and infrastructure incentives for development of the film industry. One of the city's poorest neighborhoods, Parque Patricios, was designated as a "technology district," leading to the construction of office buildings and attracting new businesses and jobs to the area.
However, most of the benefits of these projects go to well-educated, middle and upper class Argentines, and while they may be worthy in that regard, initiatives that favor the city's poorer half are facing record cutbacks. Buenos Aires' proposed 2014 budget has allocated the lowest amount of spending on social housing in the last decade, a 19 percent cut from last year. The budget for the city's Ministry of Social Development will be cut by $20 million USD.
A recent report by the city's auditor general revealed that Macri's government invests ten times more money in private schools than he does in public ones, and that problems with his administration's new online registration system have left between 3,000 to 17,000 children without a school at all.
Bill de Blasio – The Left: Sandinista and Socialist
De Blasio is the first democrat to hold New York City's highest office in over 20 years. He ran his campaign with the slogan "a tale of two cities," promising to do what he could about inequality in New York City and pushing policy initiatives like universal early childhood education and higher taxes on the rich. While his two months as mayor haven't cured world hunger yet, he is already working on banning those ridiculous horse-drawn carriages. That's right, at long last the streets South of Central Park will no longer smell like malnourished-horse doo.
De Blasio's track record as a progressive is long and strong. In the late 1980s, while Ronald Reagan was busy funding terrorism (yeah I said it), de Blasio was working the other side, rallying support and donations for the Nicaraguan revolutionaries known as Sandinistas. He even traveled to Nicaragua to dish out food and medicine. When he was asked at a meeting in 1990 about his goals for society, de Blasio responded that he was an advocate of "democratic socialism." Such words already have conservative talking heads like Fox News host Sean Hannity threatening to leave the city. Surprising, no?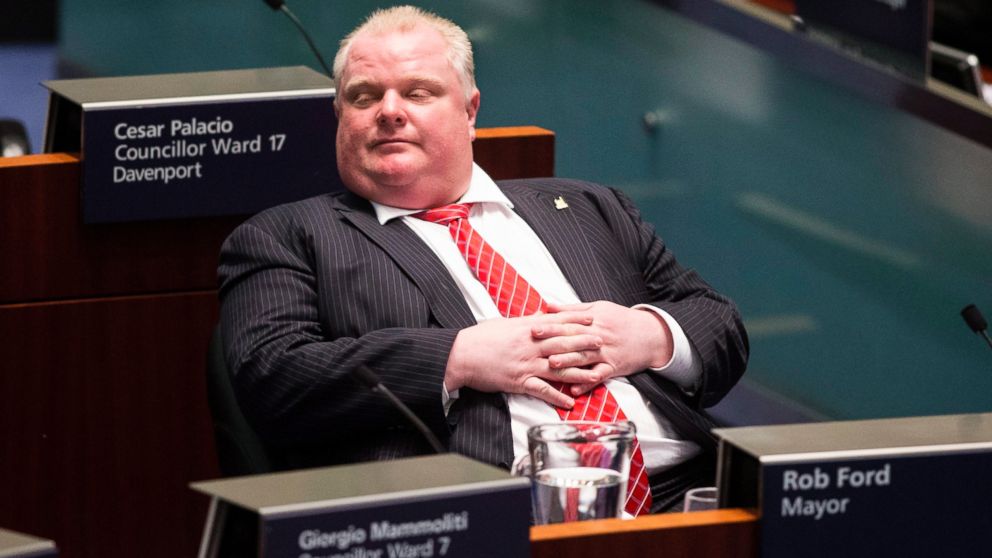 Rob Ford – The Ugly: Populism at its Worst
Rob Ford is a right-wing populist, and was elected on the promise to cut the "gravy train" of spending at Toronto's city hall. His cuts have mainly involved dismantling the city's plans for public transit, which Ford calls the "the war against cars." He cut bus routes, took away the transit workers' right to strike and imitated vomiting when taxes to fund transit plans were suggested.
Things really got ugly when he started talking about bigger issues. In 2002, Ford was infuriated by suggestions that he have a public meeting to discuss a homeless shelter in his district, sarcastically remarking that instead, "Why don't we have a public lynching?" In 2006, Ford fought against spending US$1.5 million to combat AIDS because, "If you are not doing needles and you are not gay, you wouldn't get AIDS probably, that's bottom line."  In March 2008, he repeatedly referred to the tireless work ethic of "Orientals," once saying "Those Oriental people work like dogs." I believe the preferred nomenclature is Asian-Canadians, Mayor Ford.
Here is Mayor Ford running City Council:
Run-ins with the Law
Mauricio Macri – Kidnapped
At the beginning, Macri didn't so much run into the law as the law ran into him. On August 23, 1991, a few Federal Police officers went rogue, kidnapped Macri and held him for 15 days, before his father paid a US$7 million ransom to release him. One of the officers involved in the kidnapping, Alfredo Hugo "Poroto" Vidal, was able to evade arrest for 10 year sbefore he was finally apprehended in 2001.
But lately Macri has had legal troubles of his own. In March 2008, the mayor created the city's first metropolitan police force, and chose Jorge Alberto "Fino" Palacios to run it.  Palacios was forced to resign in October of 2009, when it was discovered that he was wiretapping political opponents, including rival city lawmakers, the head of the city's public employees union, and Sergio Burstein, a Jewish community leader and vocal opponent of Palacios' nomination to police chief.  In April 2010, Macri himself would be indicted as the investigation discovered that his own brother-and-law was a victim of espionage.  Macri dismissed the charges as politically motivated, but let's face it, dude has trust issues.
Bill de Blasio – Arrested
De Blasio has been arrested four times, like any OG should. The latest occurred in July 2013, during a protest to save Long Island College Hospital. He was also arrested in 2003 while protesting firehouse closings as a member of city council, and twice before that for protesting the federal government's policies towards Latin America (see aforementioned Reagan Doctrine).
Rob Ford – Where to Begin…
Crack. Rob Ford smoked crack. Not cocaine. Not weed. Crack. Then he lied about it, even though there was video evidence. This wasn't the first time that Ford made up some easily disprovable bullshit.
In 1999, Miami police officer Timothy C. Marks pulled the 29-year-old Ford over because he was driving with his headlights off. According to friendly officer Marks, "The def[endant] approached me and took all of his money and threw it to the ground…. When the defendant spoke to me I could smell a strong odor of an alcoholic beverage on his breath. His eyes were bloodshot."
Ford was charged with possession of marijuana and driving under the influence. When asked about the incident during his run for mayor in 2010, he claimed that the arrest was for failing a breathalyzer. When confronted with the facts, he said that, "It completely, totally slipped my mind." Sound familiar?  He also said that he could "barely remember" the crack video because he was "very, very inebriated."
Mayor Ford is fond of the drink.  In February 2013, Ford was asked to leave a gala for members of the military after "speaking in a rambling, incoherent manner that alarmed some of the guests."  Last St. Patty's Day, Ford was escorted out of a bar called Bier Market because witnesses reported him "storming the dance floor" and exhibiting generally drunk behavior.
Here is Rob Ford at various times when he has been shit-housed, demonstrating said rambling and incoherent behavior:
Sports Fanatics
Mauricio Macri – Boca Juniors
Prior to being mayor, Macri was a three-term president of Argentina's most famous football club, Boca Juniors. Macri's 12 years as head of the club were successful ones. His business acumen helped win sponsorship deals with the likes of Nike and the Argentina's largest home goods chain, Megatone.  Boca would win several international tournaments, including the Intercontinental Cup twice and the Libertadores Cup four times. Those years would also see the arrival of legends such as Carlos "El Apache" Tevez and Juan Roman Riquelme. When he stepped down in 2007 to run for mayor, there was no doubt that his time as Boca's president had solidified his image as a successful leader.
Bill de Blasio – Red Sox
It is de Blasio's worst kept secret that he grew up in Boston, and as such, is a fan of New York's most hated rival, the Red Sox. Spring training for the pinstripes is right around the corner, and we're still waiting for him to finish a press conference with "… and fahk the Yankees!"
Rob Ford – Football
Rob Ford is a huge football fan and can frequently be seen sporting the jersey of his favorite team, the Toronto Argonauts. Yeah, I've never heard of them either. They play football in Canada?
When he was city councilman, Ford would skip meetings to coach a high school football team.  He once emptied two city buses of their rush-hour passengers to pick up the team.  He even wore a garish NFL tie sporting all of the league's logos to the press conference where he apologized for smoking all that rock.  Here is Rob Ford playing football:
Holy Matrimony
Mauricio Macri
In 2010, Macri got hitched for a third time with Juliana Awada, who, like Macri, built her career on the success of her parents. Macri faithfully followed in the footsteps of his father, who, with the help of then-president Carlos Menem, became a magnate in the automotive industry. Juliana became a designer for her mother, who is now the driving force behind the family's clothing company, Awada. Two weeks into the couple's blooming relationship, Juliana introduced Macri to Madame Awada, who coolly told her future son-in-law, "Do not pull one over on my daughter because I will cut off your balls."  Noted, ma'am.
Bill de Blasio
De Blasio's biracial family received plenty of positive attention during his mayoral campaign. His wife, Chirlane McCray, was once a lesbian. How do we know? Because in 1979 she wrote a revolutionary article for Essence magazine called "I am a Lesbian." There.
Rob Ford
At a November 2013 press conference, Ford, dressed in his favorite Toronto Argonauts jersey, refuted allegations that he wanted to have oral sex with one of his staffers, stating, "Oh and the last thing was Olivia Gondek, it says it says that I wanted to eat her pussy. Olivia Gondek. I've never said that in my life to her. I would never do that. I'm happily married. I've got more than enough to eat at home. Thank you very much."  No, Mayor Ford. Thank. You.
So there. The next time you take your Canadian buddies out for a Quilmes beer and they are all like, "Oh yeah, the Kirchners are so left-wing that they are radical" or " the PRO is so right-wing that it's destroying social programs and public education funding," and blah blah blah, just remind them that you know a crackhead who's up for reelection in October.