The extensive cultural scene that Buenos Aires has on offer, allowing residents and tourists alike to profit from the city's generous artistic agenda — one in which cultural cafés play a crucial role. It turns out that a cup of coffee, a book, a live band and a comfortable sofa make for the perfect combination for literature lovers. These tranquil locations invite bookworms to take shelter from a rainy evening or wind down after a hectic day; tempted by a warm drink and a good book.
This style of 'literary café' was born in France; providing intellectuals with a covert place to gather and talk philosophical shop, plot rebellions, or merely to discuss art. Today, they serve as intimate spots to delve into a novel, comforted by the company of a beverage and an array of culinary delights. Here's a list of 5 cultural cafés that just might satiate your unapologetically nerdy appetite:
Eterna Cadencia
Eterna Cadencia is literally a house taken over by writers. From the outside the bookshop looks like one of the many beautiful casonas that clutter Palermo, but inside it's is a book-lover's paradise.
The owner, Pablo Braun, always wanted the place to be more than just a bookshop; so he placed a small café in the main hall to allow potential buyers to sit, read, eat, drink and chat with each other. Eventually, the place became an emblem of the independent literary and cultural circuit in Buenos Aires; as the bookshop often holds host to both well-known and amateur writers willing to recite poems or simply give a speech.
Independent by nature, Eterna Cadencia is determined to give a platform to books often overlooked by the public or cast aside by commercial bookshops. They aim to publish at least two pieces – fiction and non-fiction (namely philosophy and literary criticism) – by unpublished authors once a year. So far, they have published 104 new titles.
In Eterna Cadencia, literature lovers will not only find books published by their own editorial team, but also by pros like: La Bestia Equilátera, Bajo la luna, Mansalva and Caja Negra. Bonus points — upon arrival you'll be greeted by a lovely librarian who will make your stay all more delightful.
Dain Usina Cultural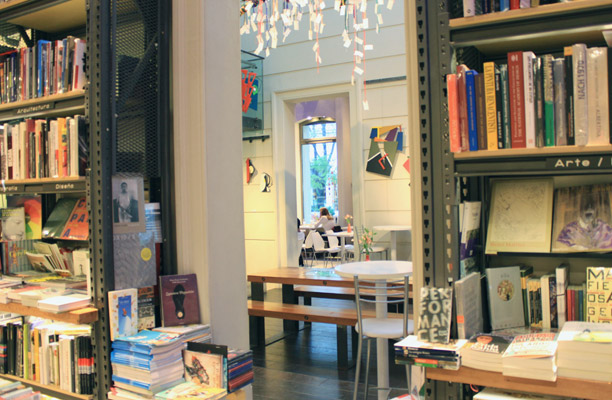 The notion of having a place where books take center stage like this, was first introduced by Federico Offenhenden, librarian and manager of Dain Usina cultural, in 2011. His aim was to provide an escape from the hustle and bustle of daily life, and just like that — Dain Usina Cultural was born. A place where passers-by can share a cup of coffee and chat with a friend, participate in cultural activities, get their hands on hardback books, listen to music, see exhibitions and gorge on some delicious dishes.
On the ground floor, visitors can find an intimate restaurant that serves meals ranging from salads to the more prototypical ojo de bife; along with the impressive bookstore, where three librarians are always on hand to help. There is a shaded terrace on the top floor that can be rented out for events or informal dinners. 
The atmosphere is really cozy, warm and dreamy. Think flower arrangements, latin music and decorative items flooding the store.
Café Montserrat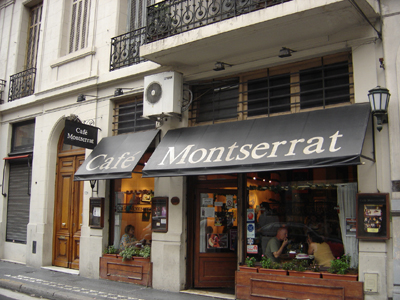 Café Montserrat was founded in 1991 and is just one of the many cafés that make our city so iconic. Its porteño brand of bohemian style harkens back to an age when intellectuals would gather in these urban spots to discuss ideas, write, read the newspaper, or simply have un cortado.
Just a few months after its opening back in the 90s, a group of poets asked the owners if they could hire the place in order to develop a series of artistic activities and from there the tradition continued. At 8pm every Friday, the café turns into a cultural centre called Café Literario Antonio Alberti, holding host to diverse events such as book and magazine launches, live concerts, political debates and free lectures. However, the café is not only renowned for its literary life but also for its art and sculpture exhibitions, as well as photography fairs.
Furthermore, the cafeteria serves up some very tasty meals at equally reasonable prices. Other good news is that at night, the café becomes a lively pub where people often throw parties and after-office events – locals, get excited.
Clásica y Moderna
The characteristics essential to a literary café include a cool, intimate and cozy atmosphere; and Clásica y Moderna has it all.
Originally popular among politicians, artists and writers, this café – founded in the 30's – was one of the first places on the list to have been established in the city. Its brick walls, soft lighting and paintings provide visitors with a homely feel. It had its ups and downs but truly consolidated itself after the return of democracy in 1983. From then on, the owners decided to introduce a wide range of features to the café's everyday life: live concerts, shows and artistic activities together with a little restaurant.
At midday, there is often a pianist enticing passers-by to the unique atmosphere and reasonable menu prices (thank you for that C&M!). The meals offered in the restaurant match the café's style. Plates are named as fun literary nods: for example, Bécquer pears in red wine and Umberto Eco fingerfood snacks. The waiters are highly trained, so that they can not only recommend a special, but also the book of the month.
Libros del pasaje
It is a well-known fact that Argentinians are truly creative and pioneering people; and no one makes this more evident than the owners of Libros del pasaje: Felipe and Nicolás.
The two met abroad whilst trying to set up their own record company. Months later, they returned to Argentina and decided to open a store where they could sell their own records while also allowing readers to enjoy French patisserie delights, get a taste of New York´s best bakery, try Colombiá's strongest coffee, drink England's finest teas and read the most inspiring books – sound too good to be true, I know.
The idea is for people to feel relaxed and comfortable in an atmosphere that is cosmopolitan, stimulating and sophisticated. In theory this should translate to you being able listen to cool rock and jazz, savor a traditional tarte aux poires, and read Just Kids by Patti Smith – anytime you'd like.