Argentine Secretary of Hydrocarbon José Luis Sureda, the second highest official in the Energy Ministry, sent in his letter of resignation yesterday to Minister Juan José Aranguren. Sureda argues his decision came as a result of the growing distance between the two and Aranguren's lacking leadership, which he characterized as "authoritarian." The straw that broke Sureda's back, mentioned at the end of the letter, was when Aranguren allegedly denied his friend Taos Turner, a Wall Street Journal writer, access to the government building, where he haedad to interview him.
In the letter of resignation, the now former Secretary says he accepted his post "To serve the Nation," but Aranguren has negated his ability to improve the department due to political divides, causing a failure to meet the "Energy needs of our country."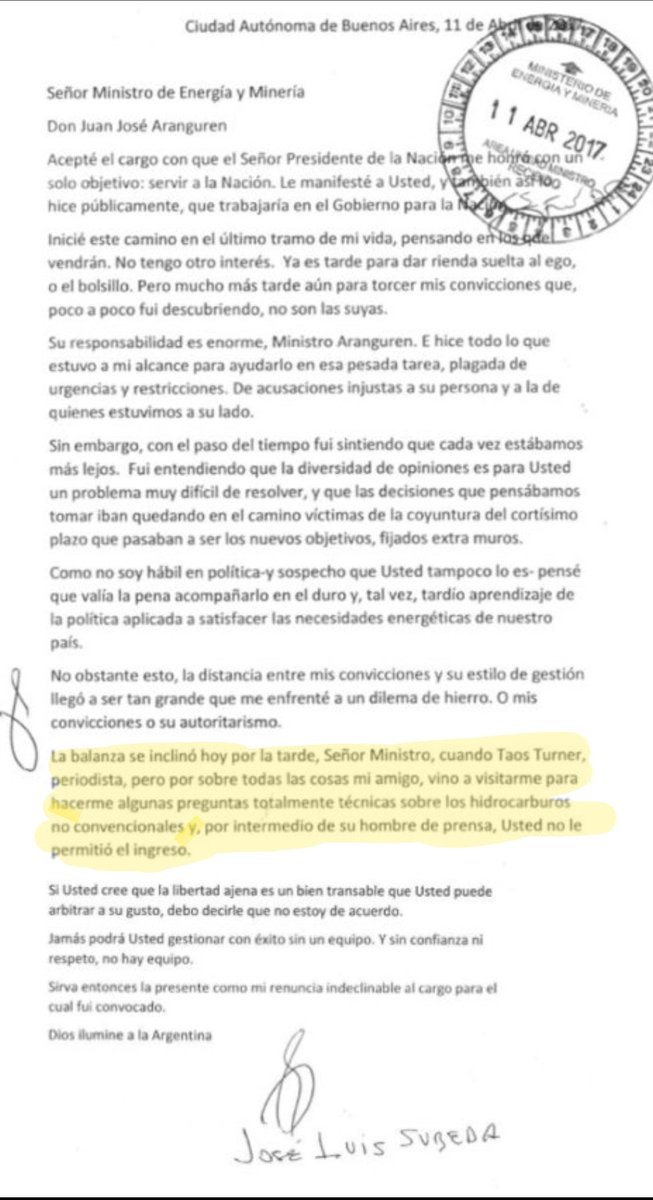 Subeda writes that he feels he has defended the department and Secretary Aranguren to the best of his abilities, but he cannot serve the nation to the best of his abilities:
"Your responsibility is enormous, Secretary Aranguren. And I did everything that was within my reach to help you with this difficult task, filled with urgency and restrictions. Of unjust accusations of yourself and to those who were on your side…"
"However, with the passing of time I have been feeling that each time we are further apart. I have been understanding that the diversity of opinions is a very difficult problem for you to resolve."
Subeda later goes on to say that the (wiser) long-term decisions they had planned to make have fallen "victim" to the short-term policy the presidential administration pressures.
Subeda finishes his justification for resignation, saying:
"The scale was finally tipped today this afternoon, Mr. Secretary, when Taos Turner, a journalist, but above all these things my friend, came to visit me to ask me some completely technical questions about non-traditional hydrocarbons and you, through your press secretary, did not permit him entry."
"You [Aranguren] cannot operate with success without a team. And without confidence or respect, there is not team."
Subeda has not announced what will come next for him in his apparently apolitical journey. With a fiery exit such as his, perhaps a long vacation is due. Likewise, there have been no announcements as to whom will fill the now vacant position as Secretary of Hydrocarbons.