In classic showbiz style, the drama surrounding Al Pacino's Buenos Aires visit continues. Argentine actress Lucila Polak, who is The Godfather star's current love interest, has hit back at Norma Aleandro following her ruthless criticism of An Evening with Al Pacino.
Argentina's acting pride and joy, Aleandro, caused a stir when she announced she'd walked out of the "open interview" after just 50 minutes because it was just "horrific." She must have known her actions would have consequences — no fights go un-fought in show business.
Polak doesn't seem to have shied away from the challenge, that's for sure, expressing her disapproval of Leandro's "lack of education and class" in numerous interviews over the past few days.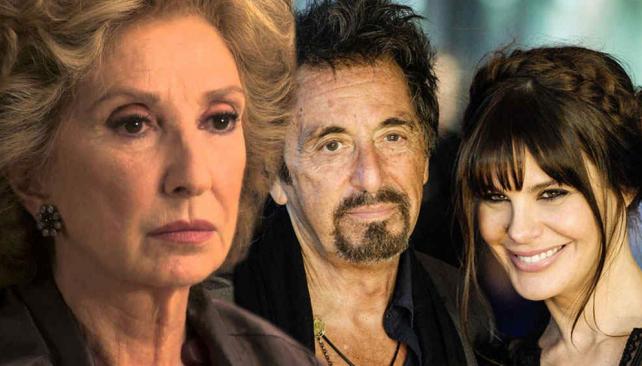 The Un buen día actress told La Nación, "I never do these things, but an idol has fallen for me." She then lashed back at her ex-idol, saying, "She has every right to dislike the show, but there's no need to say something like that. Meryl Streep would never say a thing like that about another artist." Ouch — did you feel that burn, Norma?
Polak carried on, "if you want to call yourself an artist, have a little bit of respect. As an Argentine, I feel personally embarrassed that such an esteemed actress … has said such atrocious things."
Then it was time for the sob story — these people have a good PR team — as Polak shared an anecdote from the couple's time in Buenos Aires: according to the actress, her partner had refused to leave a tango show early on Sunday, even though he was "exhausted." He apparently told her that "out of respect for the dancers, who are artists and are putting everything into this show, I can't leave in the middle of the performance. Because if they find out I left, it will break their hearts." What a funny coincidence — it almost seems too good to be true…
Polak finished up her interviews giving us all a few lessons in manners: "There's a phrase in English that's very clear —'If you have nothing nice to say, don't say anything at all' — I think if we followed that rule a little bit more in this country, we'd all be better off." Bravo.
In other news, as Aleandro and Polak's spat progresses, sources have confirmed that Al Pacino gave a Buenos Aires waiter a 20 percent tip of 800 pesos, according to Minuto Uno. Make of that what you will.